Load carriers from recycled plastics,
made by PURUS PLASTICS
Load carriers transport freight and are indispensable for the day-to-day movement of goods. The requirements of forwarding agents, food retailers, manufacturers, etc. are effectively identical: today's load carriers must be robust, reliable, user-friendly and cost-effective. The FIDUS product range from PURUS includes modern plastic pallets, customized plastic reels for winding goods and box systems in the pallet format.
Our plastic pallets have been delighting customers for many years now, providing top performance in all formats and load classes regardless of whether they are used for a dynamic load, static load or in high racks. The advantage of our innovative plastic reel is obvious: we manufacture your desired quantity according to your specifications and we also provide matching application solutions for this.
When choosing the right load carriers, you can certainly lose sight of the big picture. However, we would be happy to advise you on choosing the right solution. We can even help when you are thinking of switching from wood to plastic because we think: "less wood means more".
Applications and loads
We provide various solutions for pallets, reels and boxes depending on the application and required load. We use the terms "light, medium and heavy" to describe the load handling capabilities of our plastic pallets. Pallets that only have feet or are not suitable for high racks are called light. Our medium pallets have a high rack load-bearing capacity of up to 500 kg and our heavy pallets are utilized for heavy goods. Depending on the pallet type and format, we also provide options such as steel reinforcement and three or five so-called "runners". In addition, we also offer various decks, from closed decks (CD) to open decks, ideal for frozen goods transport and air freight. Along with pallets made from recycled plastics, we naturally also offer plastic pallets made from new plastics for the strict requirements used in high hygienic areas, among other things.
The list of applications is long: container pallets, chemical pallets, air freight pallets, display pallets, hygiene pallets and so much more. We have the solution for your application!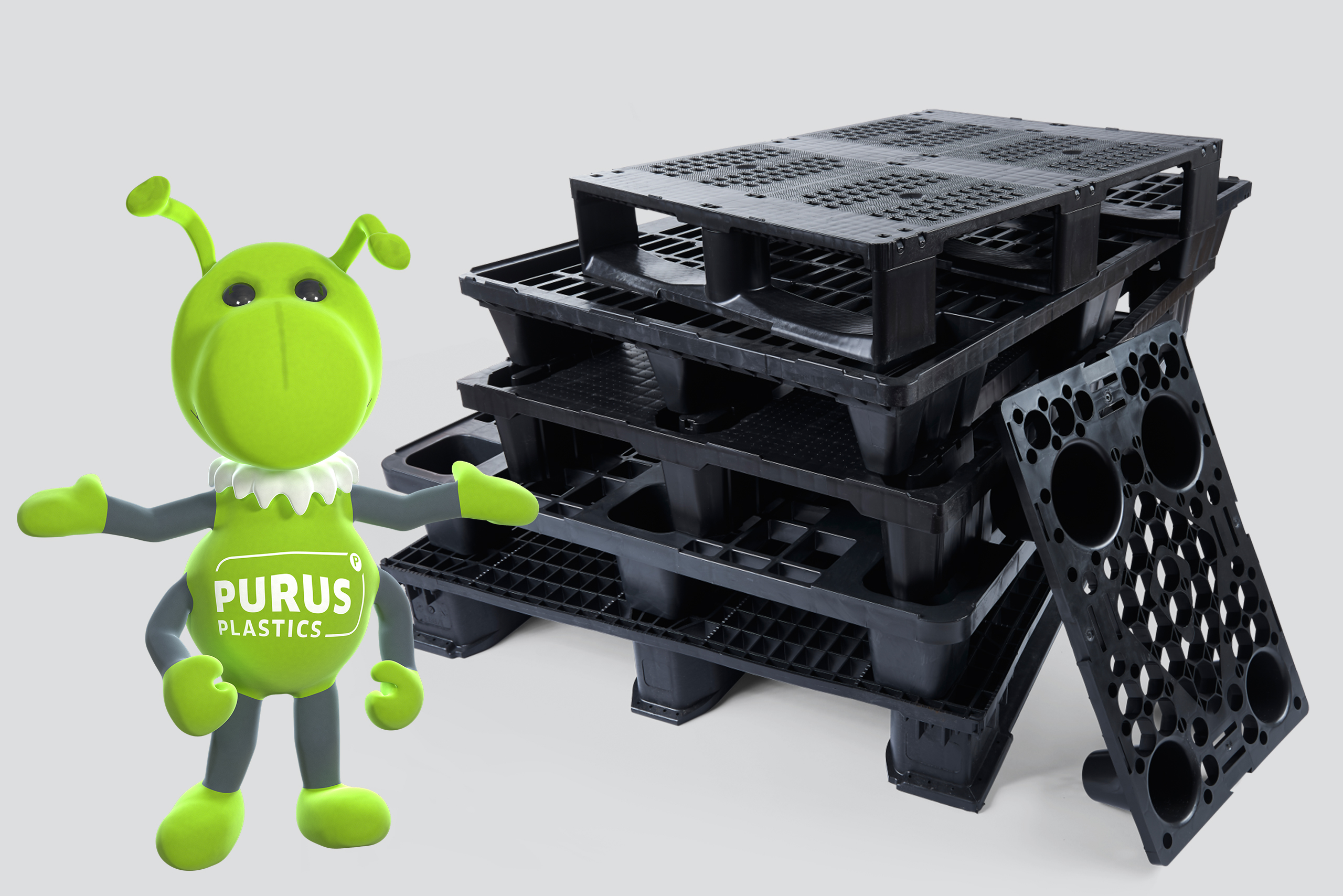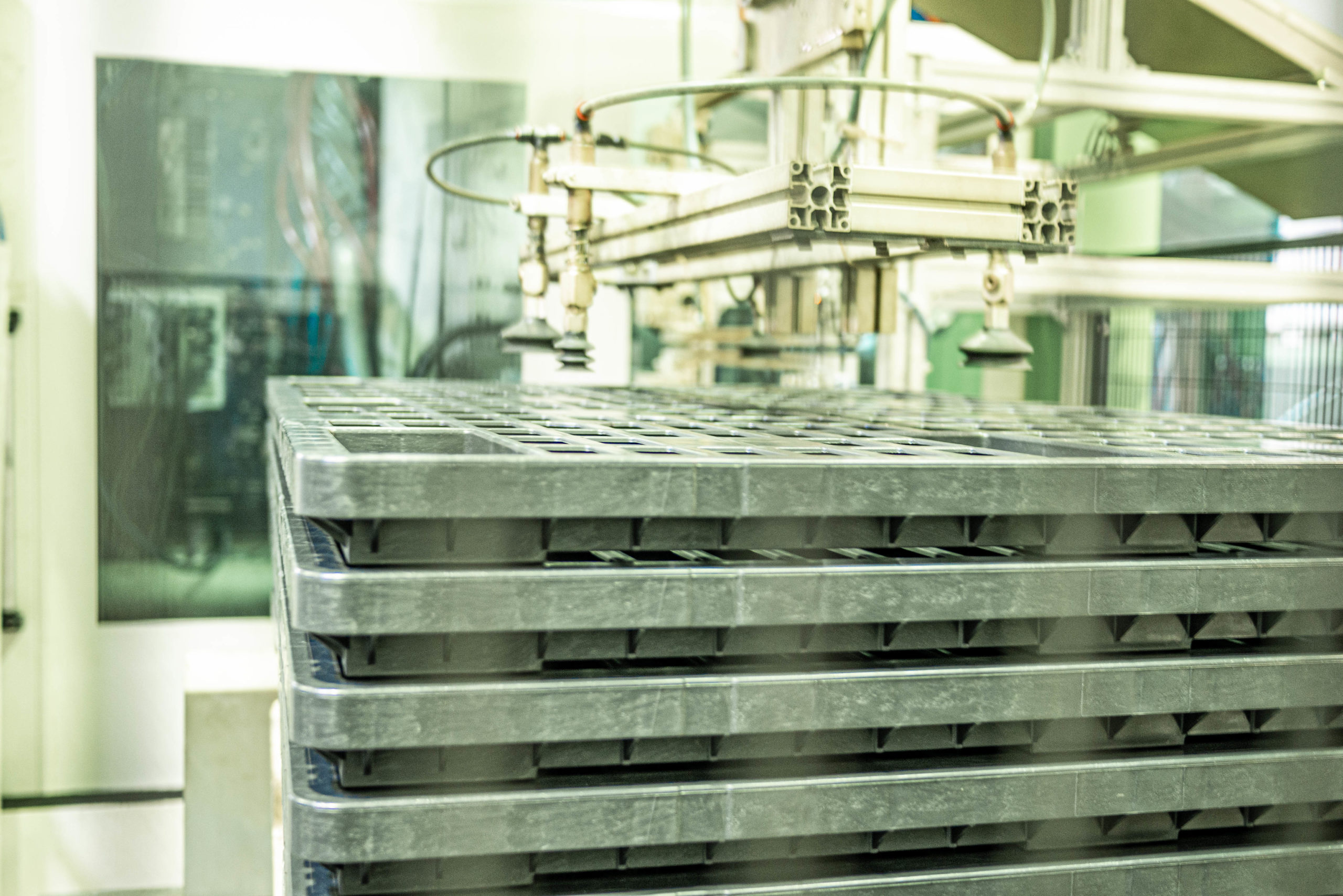 Various formats
PURUS is both manufacturer and dealer. Our range of pallets includes the commonly-used formats. Quarter-size formats, half-pallets, Euro format and industrial pallets. Are you looking for special formats such as container pallets or chemical pallets?
Less wood means more
Wooden pallets in the Euro format have been around for decades. However, wood on its own as a material has its limits and it is simply not well suited for certain applications.
Anywhere moisture comes into play, wooden pallets are not the best choice due to the higher risk for germs and injuries. To be sure, wood is currently very cheap because of the amount of damaged timber available, but we should be preserving wood as a CO2 reservoir and plastic as a raw material.
Light
Plastic pallets are usually lighter than comparable wood-based solutions. This is due, among other things, to the stable lightweight design as well as the lower weight of the material.
Innovative
We make sure that our products maintain a consistently high level of quality and provide sophisticated application solutions: closed or open decks, metal reinforcements, extremely robust edges, anti-slip edges, runners, and so much more.
Disposal?
Recycling!
Recycling instead of disposing of materials because plastic is a raq material that can be easily conserved. We operate one of the most cutting-edge treatment plants in the world and act as your partner for environmentally-friendly and profitable disposal of old plastic containers and load carriers. Let us work together to conserve this raw material, relieving the pressure on future generations and improving your environmental footprint.
Expandable
Our plastic pallets can be individually supplemented according to your individual transport requirements and equipped with additional functions and options.
Hygienic
Germs and bacteria have no chance due to the smooth, closed surface. Dirt can be removed very quickly and easily using commercially available cleaning systems and high-pressure cleaners. There is no need for costly fumigation. Our plastic pallets are perfect for hygienic uses.
Ideal for
transport
Quality requirements are extremely high – particularly in the export segment. The plastic pallet scores points here because there is no need for costly ISPM15-complaint handling or fumigation of pests. An advantage that saves on administrative and handling costs.
Reliable
Unlike other solutions using wood, our plastic pallets do not absorb liquids or lose durability and load-bearing capacity with an increased service life. They are reliable.
Long-lasting
Plastic pallets have a service life that is on average up to 10 times longer than wooden pallets and also remain resilient and maintenance-free even after repeated use. Moisture, corrosion and chemicals have little effect on the pallets.
Do you have any questions? We would be happy to answer your questions about our products. Get in touch!
Product overview download
Need some time to take in the whole picture? Then just relax and take a leisurely look through our large range of pallets in our product overview.
Who is behind all this? Who we are, what we do – now you get to leran everything abou PURUS PLASTICS GmbH.